North Korea rocket trajectory has been released in order to warn shipping of the planned splashdown of 2 of the rocket's launch stages.  From the looks of the planned path, it is Australia, and not Japan, which will have to protect US troops and other US interests in that nation as there is little danger, if all goes as planned, that any of Japan's 50,000 foreign guardians will be threatened.  US military beaches on Okinawa will remain open even if Japan's annual cheery blossom-viewing party in Tokyo is cancelled (sorry, Emperor).
And while it looks as though North Korea is being completely transparent with the world, we are convinced, as our leaders in the US and Japan continue to assure us, that the evil North Koreans, bent on regional and global domination and the total destruction of civilized society, are lying to us, something about which the completely open and honest US and Japanese governments could never be accused (if one forgets about the safety of nuclear power, SPEEDI data, radiation, food safety, the Futenma base relocation, nuclear weapons on Japanese soil, Iraqi WMDs, the viability of the welfare state, and any number of other issues espoused by our paternalistic leaders).
North Korea's Unha-3 rocket, scheduled for launch next month, will drop to earth in two stages off the western coast of South Korea and to the east of Luzon Island in the Philippines, according to documents submitted by the country to the International Maritime Organization.

The documents, obtained by NorthKoreaTech.org, were sent to the IMO's London headquarters from the DPRK's embassy in the U.K. They carried the name of "Ko Nung Do," who is identified as director general of the DPRK's Maritime Administration.

Some of the information restates what has already been disclosed by the country: that the launch would take place from a satellite launch site in Cholsan County of North Pyongan Province during a five day period from April 12th to 16th.

They also include some new information: that the launch could take place anytime between 7am and noon local time (2200 to 0300 GMT); and include the coordinates of the projected drop zones for the two-stage rocket.

The rocket's path takes it over the western tip of South Hwanghae province in North Korea then over the South Korean islands of Baegryeong-do, Daecheong-do and Socheong-do, and then across open water until it passes between Japan's Miyako and Ishigaki islands before heading further south.

The details were provided to the IMO so that the international organization can warn shipping traffic to stay clear from the two areas.

A similar notice is expected to be provided by the International Civil Aviation Organization to aircraft.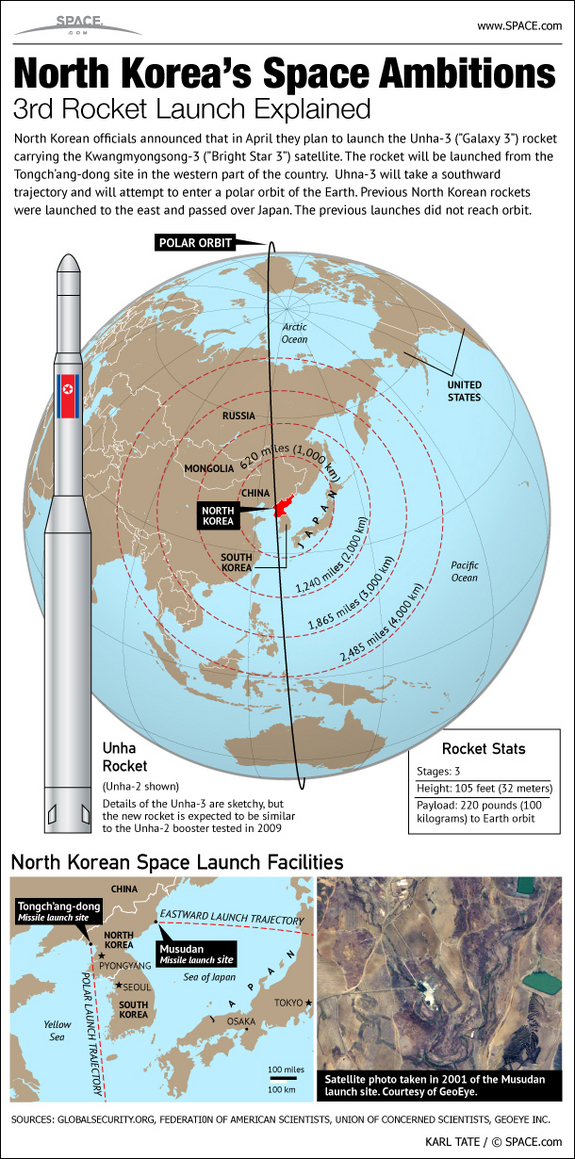 Source: SPACE.com: All about our solar system, outer space and exploration